Bike rentals and bike tours are a fantastic way to explore the natural beauty of the Emerald Coast. Did you know that Florida has more than 1,200 miles of coastline, much of which is easily accessible by bike?
In this blog, we'll guide you through the best bike trails in the Destin and 30A areas, how to rent a bike, and even how to join a bike tour for a more guided experience. So, let's pedal our way into this exciting adventure!
Want to make the most of your Emerald Coast vacation? Download our free Vacation Guide to discover top restaurants, activities, and attractions. Start planning your dream vacation today!
REQUEST YOUR EMERALD COAST VACATION GUIDE
Your Ultimate Guide to Bike Rentals and Bike Tours on the Emerald Coast
Bike Rentals in the Emerald Coast Area
Miramar Beach and Baytowne Wharf are two popular destinations in the Florida Panhandle that offer a variety of outdoor activities, including biking. Coastal Cruisers and Fun Pug Bike Rentals are two great options if you're looking for Miramar Beach bike rentals. Coastal Cruisers is a local, family-owned business that offers a variety of bikes for rent, including beach cruisers and tandem bikes. Fun Pug Bike Rentals offers free full-service delivery and pickup in Destin, Miramar Beach, and 30A, making it a convenient option for those staying there.
Good Times Rentals is an excellent option if you're looking for Baytowne Wharf bike rentals. They offer single-speed beach cruiser bicycles available for rent, and they also offer free delivery and pickup with any order over $85. You can book a rental on their website. Whether exploring Miramar Beach or Baytowne Wharf, renting a bike is a great way to see the sights and enjoy the beautiful Florida weather.
Where to Find the Best Bike Trails
There are several bike trails in the Destin and 30A area that offer stunning views and an invigorating experience. Scenic Highway 98, Timpoochie Trail, Mattie Kelly Park and Nature Walk, and Point Washington State Forest are all popular bike trails in the area.
Join a Destin Bike Tour
For a more structured experience, consider joining a bike tour. These tours often include a knowledgeable guide who can share fascinating facts about the local flora and fauna. It's a great way to learn while you exercise! Eventure Tour Co. offers a tour that takes you through the scenic neighborhoods of 30A. And Pedego Electric Bikes 30A offers tours near Grayton Beach. You can book a tour on their website or by calling them.
Safety Tips and Requirements
Before you hit the trails, make sure you're aware of the bike legal requirements in the area. Always wear a helmet and follow all posted signs and signals for a safe and enjoyable ride.
Your Dream Vacation Awaits on the Emerald Coast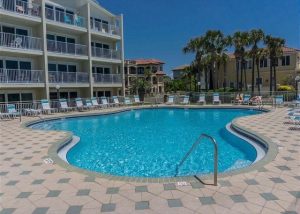 Bike rentals and bike tours offer an exhilarating way to explore the Emerald Coast. At Harmony Beach Vacations, we provide more than just a place to stay; we offer an experience. Our luxurious beachfront homes have modern amenities, and popular things to do are just minutes away. Take advantage of the vacation of a lifetime.
Ready for an unforgettable vacation? Check availability for our stunning properties and book your dream vacation today!