Fall on the Emerald Coast is a hidden gem waiting to be discovered by vacationers seeking the perfect autumn getaway. As the temperatures dip just enough to create a pleasant contrast to the summer heat, the Emerald Coast comes alive with many fall events and activities that will make your vacation exciting and unforgettable.
From pristine beaches to vibrant festivals, there's something for everyone. So, let's delve into the magic of fall on the Emerald Coast.
If you're planning a trip to this enchanting destination, don't forget to download our free Vacation Guide. It's your key to exploring the top restaurants, activities, and attractions in the area. Start planning your dream vacation today!
REQUEST YOUR EMERALD COAST VACATION GUIDE
5 Fantastic Fall Activities on the Emerald Coast
Fall on the Emerald Coast is a unique blend of beautiful weather and exciting events. With temperatures ranging from the 70s to 80s and fewer crowds, early fall offers ideal conditions for outdoor exploration, making this season one of the best times to visit. However, remember that September and October in Destin can bring some rain due to the North Atlantic hurricane season.
Packing for your fall vacation is a breeze. Think summer-style clothing like shorts, t-shirts, and sandals. Don't forget to include a light jacket or sweater for cooler evenings and indoor activities.
Explore the top five things to do during your fall escape on the Emerald Coast
Beach Bliss
No matter what time of year you visit, you'll find the best beaches on the Emerald Coast. But these stunning beaches are even more delightful in the fall. Enjoy nature walks, bike rides along 30A or leisurely strolls along the shore. With perfect fall weather, it's an ideal time to embrace the outdoors.
Fishing Adventures and Boat Tours
If you love the ocean or you're an angler at heart, the Emerald Coast offers excellent fishing and boat tour opportunities. From fishing for redfish to trout or dolphin and sunset tours, you can enjoy the ocean in various ways in the fall.
Fall Festivals and Events
Immerse yourself in the vibrant local culture by attending fall festivals like the Destin Seafood Festival and the Baytowne Wharf Beer Festival in the village of Baytowne Wharf.
Live music, delectable food, and refreshing drinks await. Other great events on the Emerald Coast include the Seeing Red Wine Festival, Sandestin Gumbo Festival, and the South Walton Street Art Festival.
Gulfarium Marine Adventure Park
Dive into the marine world at Gulfarium Marine Adventure Park. Watch dolphin and sea lion shows, snorkel with stingrays, and even swim with dolphins.
Discover Your Perfect Fall Getaway on the Emerald Coast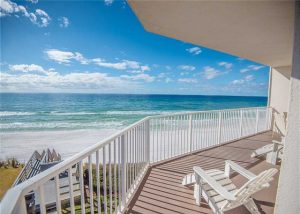 Fall on the Emerald Coast offers an enchanting blend of beautiful weather, outdoor adventures, and vibrant festivals. Whether you're strolling along pristine beaches, embarking on dolphin-watching tours, or savoring delicious local cuisine at fall festivals, this destination has it all.
If you're looking for one of the best places to stay, consider our vacation rentals just minutes from the area's top attractions. Our luxuriously decorated beachfront houses have fully equipped kitchens.
You can explore by amenities most exciting to you, such as pet-friendly rentals, Gulf-front properties, or vacation rentals with a hot tub, ensuring your stay is exciting, convenient, and memorable!
Ready to experience the magic of fall on the Emerald Coast? Check availability and book your dream vacation with us today!