HarborWalk restaurants are the crown jewels of Destin's vibrant culinary scene. Nestled along Florida's stunning Emerald Coast, Destin is famous for its white-sand beaches and emerald-green waters; it's also a food lover's paradise. This blog will guide you through the top dining options in Destin HarborWalk Village, from seafood havens to international cuisines.
Eager to uncover even more local gems? Download our free Vacation Guide now and unlock the ultimate list of must-visit restaurants, thrilling activities, and can't-miss attractions. Start planning your dream vacation today!
REQUEST YOUR EMERALD COAST VACATION GUIDE
A Guide to Destin HarborWalk Restaurants
Dewey Destin's Harborside
Dewey Destin's Harborside is your go-to spot for seafood lovers. With its waterfront location, you'll enjoy the food and mesmerizing harbor views. The menu is rich in local flavors, featuring catch of the day, fried and grilled baskets, steamers, and much more.
Jimmy Buffet's Margaritaville
For those looking to add a little international flair to their dining experience, Margaritaville offers a Caribbean-inspired menu. From tropical drinks to island-style entrees, this restaurant transports you to paradise on the Destin HarborWalk.
Harry T's Lighthouse
Harry T's Lighthouse offers a laid-back atmosphere perfect for families. With a diverse menu that includes everything from burgers to seafood, there's something for everyone. Plus, it's one of the best restaurants in Destin for ambiance and watching the sunset.
Boshamps Seafood & Oyster House
For a taste of Southern hospitality combined with fresh seafood, Boshamps Seafood & Oyster House is a must-visit. This restaurant is renowned for its oyster selections and locally sourced seafood dishes. Enjoy oysters or their famous "Boshamps Shrimp and Grits" with a view of Destin Harbor. It's a dining experience that captures the essence of the Emerald Coast.
Landshark's Pizza
After a day of exploring things to do in Destin, why not catch the big game at Landshark's Pizza Company? This locally owned sports pub is a haven for both foodies and sports enthusiasts. With a menu featuring a variety of pizzas, buffalo wings, calzones, and hot subs, it's the perfect spot to unwind and enjoy some top-notch sporting action.
Cafe Destin
If you love breakfast, start your day right with a visit to Cafe Destin. It is a charming breakfast and lunch cafe near the beach. Open from 7:00 a.m. to 2:00 p.m., this delightful spot offers both indoor and outdoor seating on a spacious covered patio. With a menu full of healthy options and an espresso menu served all day, it's the perfect place to fuel up before heading out to explore the best beaches of the Emerald Coast.
Your Next Culinary Adventure Awaits in the Emerald Coast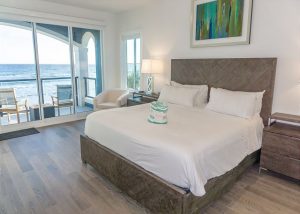 HarborWalk restaurants offer a culinary experience like no other. And what better way to enjoy it than by staying at Harmony Beach Vacations?
Our luxury condos are minutes away from these dining hotspots, allowing you to easily explore the best of Destin. With fully furnished condos, high cleanliness standards, and proximity to popular attractions, your dream vacation is just a click away.
Ready for an unforgettable stay? Check availability for our gorgeous beachfront properties and make your Emerald Coast vacation a reality.