Imagine sailing into the sunset on a Destin dinner cruise, the emerald-green waters of the Gulf of Mexico stretching as far as you can see. Did you know that the Emerald Coast is home to some of the most biodiverse waters in Florida? This blog will guide you through the best dinner cruise in Destin, plus two others that are just as magical, from group outings to intimate private experiences.
Ready to explore more of what the Emerald Coast has to offer? Download our free Vacation Guide to discover delicious cuisine, fun activities, and exciting attractions. Start planning your dream vacation today!
REQUEST YOUR EMERALD COAST VACATION GUIDE
Destin Dinner Cruise and Beyond: Exploring Waterfront Wonders
Destin's diverse tour options offer something for everyone, from serene sunset sails to action-packed day trips. Here are three cruises that capture the essence of Destin's waterfront allure.
Savor the Sunset: The Best Destin Dinner Cruise on the Emerald Coast
The SOLARIS yacht is a 125-foot vessel offering a unique dining cruise in Destin. With three decks featuring panoramic windows and an open-air sky deck, it sets the stage for an unforgettable evening. Departing from Sandestin Golf and Beach Resort, it's the only dining yacht in Northwest Florida. Enjoy award-winning cuisine and live music as you cruise into the sunset. Ideal for special occasions, it accommodates up to 149 guests and was voted Best Event Venue in 2022. A must-experience attraction in Destin.
Group Cruises: A Social Affair
Group cruises offer a lively atmosphere for those looking to mix and mingle. Companies like TripShock offer cruises like their Daytime Dolphin Watch & Sunset Cruise in Destin, which is an excellent choice for groups and families. The cruise takes place on the spacious Hannah Marie boat, offering ample seating and scenic views of Destin Harbor and East Pass. Not only will you have the chance to spot dolphins, but you'll also learn about Destin's history. With amenities like a glass-bottom, a snack bar, and a climate-controlled cabin, it promises a comfortable and enriching experience for all.
Private Cruises: Intimate Elegance
Private cruises are the way to go if you seek a more secluded experience. Destin Private Yachts specializes in tailored luxury cruises in Destin, Florida. Whether you're after a peaceful sunset sail or an action-packed day on the water, this company delivers an exceptional experience. Focusing on top-notch service, they offer private yacht charters that can be customized to your needs, ensuring a lavish and unforgettable outing.
Discover the Ultimate Beachfront Luxury with Harmony Beach Vacations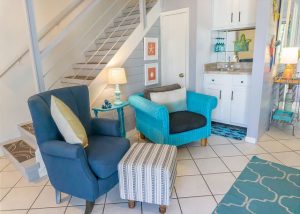 Destin dinner cruises offer an unforgettable experience, but the adventure doesn't have to stop there. Harmony Beach Vacations provides the perfect home base for your Emerald Coast getaway.
Our properties are meticulously cleaned and stocked with essentials, ensuring a comfortable and luxurious stay. We're just minutes away from endless things to do, from shopping malls to water parks.
So why wait? Book your stay at Harmony Beach Vacations and elevate your Emerald Coast experience. Check availability and start planning today!