Are you planning a trip to Destin, but want to beat the heat this summer? July is the hottest month of the year, but don't let the heat keep you from enjoying sunny Destin, Florida! From the best beaches to the shaded bike paths, here are our five tips for staying cool on Destin in July.
Excited to visit Destin, but not sure where the best restaurants, shopping centers, and beaches are located? Read our vacation guide for all of the great picks we have planned out for your next visit!
5 Ways to Stay Cool in Destin in July
Hit the Beach in Style
The beach! You have spent all year waiting to get out and go to the beach when it is hot and now it is finally time! Destin is known for its beautiful white-sand beaches, but in July they can often be quite crowded! Here are a few of our recommendations for our favorite beaches that will let you spread out and enjoy the water so you don't mind the heat too much.
Henderson Beach State Park
Crystal Beach
Crab Island
Grab some Ice Cream
Nothing quite hits the spot when you are hot than good old-fashioned ice cream! As a destination town on the beach, Destin has several great local spots for ice cream you should try when you are here!
Bike down a Shaded Bike Path
There are many, great bike trails in the Destin and 30A area, but strenuous activity in the direct heat is often a poor idea. Thankfully, there are bike trails like Grayton Beach State Park which send you through a cool forest of pine trees and opportunities for other activities like kayaking and paddleboarding.
If you go further inland, you can bike through Point Washington State Forest which is home to finely preserved Florida wetlands. The mapped trails cover loops of 3.5, 5, and 10 miles!
Go Snorkeling
It is hard to feel hot when you are underwater! Snorkeling is a great way to stay cool while being wowed by the diverse marine life of the Florida continental shelf. To snorkel you can either go by yourself and launch off points such as Norriego Point, Henderson Beach State Park, or Destin Jetties and East Pass or with a tour guide.
Stay Inside at a Harmony Beach Vacation Rental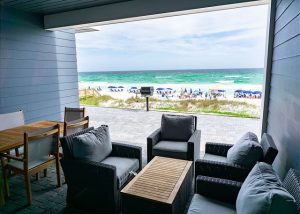 The best way to stay cool during the heat is with air conditioning, a glass of lemonade, and an ocean view from your breezy balcony! Experience all of that and more when you book a vacation rental with Harmony Beach. Enjoy a luxury condo right on the sugar-white sand beaches of Destin so you can choose to stay inside or go out on the beach whenever you want!
Book a condo like Henderson Villas #2 which is next to Henderson Beach State Park a popular snorkeling launch point where you can swim with the loggerhead turtles.