Are you tired of cold, snowy winters? Well, Destin is the perfect escape. You don't have to worry about the lack of things to do. We laid out our top six reasons to spend winter on the Emerald Coast, and we know you'll like them! 
If you want to discover more information on how to make the most of your time in Destin, be sure to request access to our complimentary Vacation Guide! It's full of the top restaurants, activities, and attractions in our area. 
The Top 6 
Reasons to Spend Winter on the Emerald Coast
1. The Warm
er
 Weather
While the weather here on the Gulf Coast isn't necessarily warm during the winter months, temperatures typically range in the mid to high 50s during the day. Combine that with the warm Florida sunshine and spending a day outside feels fantastic (especially compared to the snow up north)! 
2. Christmas Shopping Is Easy
Still haven't started your Christmas shopping? Well, here in Destin, there are plenty of outlet malls and shopping complexes. Destin Commons and the Silver Sands Outlets have just about every store you could imagine. 
3. You Can Have the Beach to Yourself
Yes, temperatures might not be high enough to lay out and sunbathe, but you can still relax on our soft sands. You and your family can enjoy hours of beach time mostly to yourself with the lack of large crowds this time of the year. This is maybe one of the best reasons to spend winter on the Emerald Coast! 
4. Enjoy Festive Holiday Spirit
We love the holiday season here in Destin, and there are plenty of cheery celebrations to go around! Between holiday bazaars, Christmas parades, seasonal concerts, and Santa sightings, you don't have to go far to feel jolly. 
5. Hit the Links
The Sunshine State is famous for golfing, and there's no better time to hit the links than in the winter. Cooler temperatures and smaller crowds mean that you can play 18 holes without having to deal with busy tee times and humidity. It's a win-win! Check out some of our favorite championship courses! 
6. Savor Local Cuisine
There's nothing more rewarding than sitting down to a delicious meal with your family after spending a day making the most of your time in Destin. You'll find tons of restaurants in the area that serve up fresh seafood all day long. LuLu's Destin is a favorite for everyone, especially in the evening. Most of the dining is casual, making it perfect for families, especially ones with younger children.  
Book Your Coastal Winter Retreat 
With
 Harmony Beach Vacations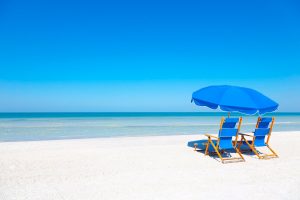 You and your family can find the perfect vacation rental for your winter trip with Harmony Beach Vacations. Our selection of condos and homes in Destin and 30A offers guests excellent amenities, convenient locations, and customer service that is second to none. So, are you ready to hit the Emerald Coast and create a new family tradition? 
Start planning your trip by booking one of our properties. We look forward to welcoming you to the Harmony Beach Vacations family.