No trip to the Emerald Coast is complete without spending at least a few days on the sand under the warm Florida sun. Keep reading to discover the best 30A beaches for swimming, relaxing, and sightseeing! Trust us; you won't want to miss out on these gorgeous shorelines. 
For more ways to make the most of your time on the Emerald Coast, be sure to request access to our complimentary Vacation Guide!  
Discover the Beaches in 
30A
Dune Allen Beach
Located along the last section of 30A before merging with U.S. Highway 98, Dune Allen Beach is one of the more secluded beaches in the area. There is a small public access point with only a couple dozen free parking spaces and a public restroom. Most of the shoreline of this beach is residential, making it the perfect place to relax and escape from the Destin crowds. 
S
eagrove Beac
h
Seagrove Beach is one of the best 30A beaches to explore if you want to enjoy some relaxing time on the sand before heading over to savor local cuisine. The tiny historic town of Seagrove offers a few fantastic places to eat, and the neighboring beach town of Seaside has a charming shopping and dining center. Put this on your list of 30A spots to visit. 
Blue Mountain Beach
Aside from a few condo complexes, Blue Mountain Beach is entirely residential. This stretch of sand features a uniquely high access point, providing sweeping views of the clear Emerald Coast water. Make sure you bring your camera along with you to capture some beautiful photos! 
Grayton Beach
The small residential complex of Grayton Beach is a great place to hang out if you want to enjoy time on a secluded beach before heading to a local restaurant or bar.  The sandy public access point only fits a handful of cars, so you can expect smaller crowds here. You can catch fantastic live music at AJ's in addition to the few other bars in this quaint beach town. 
Se
aside 
Beach 
Home to a fantastic collection of restaurants and a beautiful shoreline, Seaside has one of the best beaches in 30A. The palm tree-filled town square is a great place to kick back and relax after spending the morning out on the pristine beach. There is plenty of parking here, and you'll find larger crowds than most places along 30A. 
Inlet Beach
The slow-moving atmosphere paired with one of the best beaches on 30A makes Inlet Beach a must-visit during your trip to the Emerald Coast. The expansive shoreline bordering the inlet gives visitors plenty of room to spread out and make the most of their time on the sand. 
Rosemary Beach
Rosemary Beach sits next to Inlet Beach and boasts an atmosphere similar to Seaside. There are plenty of shops and restaurants here minus the larger crowds of Seaside. The beach is a great place to soak up the warm Florida sun. 
Plan Your 30A 
Getaway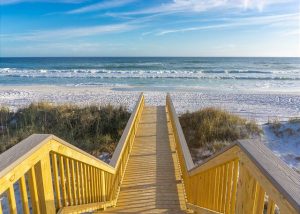 Head back to your Harmony Beach vacation rental after spending a day exploring some of the most pristine shorelines on the Florida coast. Our selection of homes and condos in 30A features fantastic locations and amenities at rates that won't burn a hole in your wallet. Don't forget to check out our Things to Do page for more information on how to make the most of your vacation to our gorgeous beach paradise.  
Start planning your 30A vacation today by booking one of our properties! We look forward to welcoming you to the Emerald Coast.